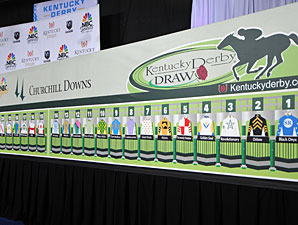 Kentucky Derby-(Louisville, Kentucky) the 139th running of the Kentucky Derby is carded as race 11 this Saturday at Churchill Downs, approximate scheduled post time is 6:24PM. The field consists of 20 entrants who are vying to make history having their name forever etched in racing lore. The weather forecast is projecting potential rain storms Saturday with very mild temperatures with a 70% chance of precipitation.
The internet and other high-tech electronic devices have changed the world immensely. Let's go back to 1980: When you wanted to talk to a family member out of state, you sent them a letter. Today, you send them an email. When you wanted to ask a girl out, you needed to call her house and go through her parents or physically show up. Today, you can get her cell phone and call or text. If you wanted to watch a show, you had to set time aside to do it. Today, you can DVR it, YouTube it, or watch it on an App from a smart phone.
With these simply everyday life changes, the horse racing community has evolved as well from technology. I remember in the early years of going to the Derby, I couldn't wait to get to the hotel on Wednesday night as they had all the Derby prep replays on a cable channel that played continuously. Had you missed the race or races, this was a great way to do some homework. The Daily Racing Form always had useful information, as it still does today. But today's print edition has information normally 2 days old. Now the on-line version allows for up to the minute info.
Last year at the Breeders Cup, my posse is attending the Thursday races at Santa Anita just to get a feel for the track condition. I don't even have a program. My gambling buddy tells me John Sadler just tweeted his horse is going to be very tough to beat in this race. I peer out at the tote board and he's 4 to 1. I partake, he ends up going off 2 to 1 and runs like he is 1 to 5 and wins by open lengths. Maybe had the information technology highway not been there he goes off 3 to 1 or higher?
I am not scorning technology, I love it. But to say it has sucked the starch out of horse racing is an understatement. The wise guy horses and under the radar runners don't exist anymore. With a few clicks on a smart phone, an Ipad, or internet surfing you can find up to the minute analysis, track conditions, and horse demeanor. Mike Welsch of the Daily Racing Form started a daily video 2 weeks from Derby day analyzing every Oaks & Derby runner's workout, every replay for every prep can be found on-line. With Twitter, Facebook, and on-line sites updating by the minute, we are all fully informed which will affect the wagering.
Let's use Vyjack as an example. Following his impressive Gotham win, he finished 11 to 1 in the Derby Future pool that concluded on March 3rd. Since then he ran a game 3rd in the Wood Memorial but was soundly beaten that day coming out of the race with some mucous in his lungs. Since that race it has been widely publicized he has worked terrible over the Churchill surface and his trainer is under heavy scrutiny due to some recent drug violations. In fact, the horse is under 24 hour video surveillance. He appears to be tailing off, but 30 years ago without this inside detailed information he might have went off between 8-12 to 1. He'll likely be 20 to 1 or greater.
A common theme among professional gamblers is that they watch replays, then use those replays to decipher things that happened in that race that don't show up in the past performance. Besides replays, the next biggest gambling tool is the statistical angle. I have a friend in Connecticut that strictly wagers off of statistical angles which entails some of the following: first off claim, first Lasix, off 30 day layoff, etc… He probably has the highest ROI (Return on investment) of anyone I know that wagers on horse racing.
Each Derby takes on its own story-line. I must admit I figured this year with the new points system would have had 10-12 runners that might have been here due to one big run in a major prep when in fact the main players have pretty much held form over all the preps. I see only 6 horses with a chance to win the Derby: Orb, Verrazano, Goldencents, Overanalyze, Revolutionary, & Normandy Invasion.
The favorite, Verrazano, will be looking to beat the Apollo jinx which Bodemeister failed to do last year, No horse has won the Derby without racing at two since 1882 (Apollo). If you like angles, history has that angle on your side. The rider of Verrazano, John Velazquez was in a spill weeks ago and just started back racing. He's not at the top of his game; would you want your star QB to miss 1 month prior to the Super Bowl? If that is not enough of a reason to play against the favorite, how about this angle……..
Since 1980, 29 of the 33 Derby winners were out a winning dam. That is 90% and here is a list of some prominent starters who are NOT out of a race winning dam: Normandy Invasion, Oxbow, Vyjack, Overanalyze and you guessed it Verrazano. Although I can't totally pitch him out of my multi race wagers, with all that is against Verrazano he is an easy Derby favorite to play against and I didn't even toss in the fact a More Than Ready sired horse should have a hard time getting the distance.
Another angle worth noting, since 1999, 15 of the last 17 Derby winners finished 1st or 2nd in their final prep; the other 2 were Mine That Bird & Giacomo (2 of the 3 longest prices ever) who both finished 4th in their final preps both lighting up the board and paying over $100 to win.
Three hurdles all 20 entrants must overcome: First time racing in a 20 horse bulky field, first time going a mile and a quarter, and carrying 126 lbs for the first time in their careers (exception Lines of Battle carried between 127 & 131 in 4 of his 5 starts as a 2 year old). To win the Derby, you have to have the horsepower, have your horse peaking, be in the right spot, but most importantly got to be lucky.
Despite the aurora of the Derby being the hardest race to win, I feel this will be a formful running and this isn't the year to reach outside of the box. Take the layup; next year might be the time to shoot the three.
If you take my 6 contenders and eliminate the ones that don't fit the above angles then I am down to 3 horses: Goldencents, Revolutionary, & Orb.
Can Drug O'Neil win back to back Derby's with another journeyman jockey?
Can Calvin Borel win his 4th Derby in 7 years, especially when the regular rider of Revolutionary choose another mount?
Hmmmmmmmm, I guess that would only leave…..
Contenders:
#16 Orb- Has done nothing wrong as 3 year old as he's a perfect 3 for 3. Trainer Shug McGaughey is a better handler than Bob Baffert, Steve Assmussen, & Todd Pletcher and I have no reservations saying that. Most mainstream horseplayers would disagree but the old school pundits wouldn't bat an eye as he wouldn't come to this event unless he had a legitimate runner. Having only made a handful of trips in his illustrious career to the Derby, this is his time to shine. Rider Rosario is the "now" rider having run away with the Keeneland riding title, he is riding as good as any jock in the country. The horse has been training lights out and the work out reports couldn't be any better. He looks to be sitting on a big race and his breeding says the mile and a quarter will be right up his alley. I love the way he strides out and barring some horrific type of trip he should be in the hunt. The gas pedal hasn't been pressed to the floor yet. All systems go, minor upset.
#5 Normandy Invasion- In standardbred racing, they actually announce prior to every race what drivers choose which horse to ride on double and triple calls. Most gamblers put a lot of weight into that. Being a harness & thoroughbred player, I tend to use both disciples to cross analyze racing so I was very interested when Castellano got off Revolutionary to ride this guy. He was closing stoutly in the Wood and has had some troubled journeys so there appears to be plenty of upside. They did however have to race him pretty aggressively in his last start to get enough points to get into the Derby so I do have a slight fear of him bouncing. He's been everybody's wise guy horse and I got on the bandwagon too. His backers are hoping his 2nd start outside of New York is better than the first one.
#18 Frac Daddy- You have to always add a little spice when you are cooking, so here is mine. At first glance, he is probably a line out especially how he got drubbed in his two Florida starts by half the stretch, but then they sent him to Oaklawn where he clunked up and ran and ok 2nd to get him into the Derby. His numbers say he is a notch below these but trainer McPeek had a good Keeneland meet and although his other runner Java's War will certainly get more public support, this guy might offer a better risk vs reward proposition. Look at his local record, he could move up drastically on a surface he has relished. A logical exotic filler at what is going to be an astronomical price.
#8 Goldencents- He comes into this off the best Beyer of anyone in the field from the Santa Anita Derby, but if you saw the race you know the engines were full throttle as they wanted to turn the tables on Flashback. They did do that but this might be a classic example of winning the battle and losing the war. It's nice to see a former Mountaineer Park rider get a chance to perform on the big stage, lots of other journeymen have been successful winning this race. Krigger has been aboard for all 6 career starts so he knows this guy very well. Similar to Normandy Invasion, I think he will regress a bit as Kevin was all over him from the top of the stretch through the wire in his last. I likely would have just pitched him in this spot, but with a paceless Derby on paper, I think he has a chance to steal it almost like Hard Spun did in 07' & Bodemeister did last year. Even if he employs a stalk and pop scenario, getting that first run could be huge. An O'Neill Derby double? Not out of the question.
Selections: 16-5-18-8
Betability: fair betting race, but it looks to run to form with all major players having good post draws. With only a handful of "A" runners and a few more "B" runners that have a shot, I doubt the result will be a head scratcher; But, this is the toughest race to handicap and win that is run in North America so there is always that chance for the unknown even if slim this year. Track bias and a potential scratch or two could always stir the pot. If reaching on a longshot, be sure to ladder him in the trifecta and superfecta underneath.
Suggested Wagers:
16 & 5 to Win & Place for 1 unit
5 & 16 wheeled first and second in Exacta's with All (except the 1,2,7,11,13,15) for 1 unit
Trifecta box 8 horses for 1 unit ($336 a unit) 3,5,8,9,12,14,16,18
Superfecta Wheel for 1 unit 5,12,16 / 3,5,12,14,16 / 3,4,5,6,8,9,10,12,14,16,18,19,20 / 4,6,18 ($396 a unit)
Saver bet: I unit WPS #12 & 18
Should you be interested in the Oaks on Friday, it is actually a powerhouse field and much more contentious than the Derby. 7 of the 10 runners (The #10 Flashy Gray is supposed to be scratched) could win this. I am going with Pure Fun #7 who should be a huge long shot; she adds first Lasix and has showed a turn of foot. Connections though enough of her to try her against the boys in her last start and stated before the race, "she should win this", worth playing a price in a deep field. Should you be a chalk eater, Baffert's Midnight Lucky would be my play.
Graded Analysis with fair value win odds
#16 Orb – 9 to 2, ascending speed figures and looks poised to run the race of his life, would be well deserved for hall of fame trainer Shug, my selection.
#5 Normandy Invasion- 9 to 1, likely to be over bet and has a chance to regress, still a very big shot if he shows up with his A game.
#18 Frac Daddy- 28 to 1, would be shocking if he got unsaddled in the winner's circle, but could very well juice the exotics up, a horse for course, include.
#8 Goldencents- 8 to 1, if you missed the wedding last year for O'Neill, then you might want to pass in case this is the funeral, has a big shot if track is favoring speed.
#3 Revolutionary- 9 to 1, interesting that he has went to get the gate as the public's choice in all 6 lifetime starts, that ends today, but has already overcome troubled trips, don't dismiss.
#14 Verrazano- 8 to 1, a perfect 4 for 4 in his brief career and has done nothing wrong, all angles point to stay away so I will try to beat him as he tries to buck a ton of history.
#9 Overanalyze- 16 to 1, one of the Pletcher's runners flying below the radar, but also seems to be rapidly improving, wouldn't shock me to win or run up the track.
#12 Itsmyluckyday- 18 to 1, ran a couple huge figs in Florida before beaten on the square by my top pick Orb, don't sell to short, he has a punchers shot and could easily run on the ticket.
#20 Vyjack – 25 to 1, my gambling buddy who has history of black cats running in front of him has him in the future pools, all signs pointing he's heading south.
#17 Will Take Charge- 35 to 1, Classic in and outer and the pattern says this will be his hiccup race, Coach's better chance, but both appear a notch below.
#19 Java's War- 25 to 1, has been out worked by his stablemate coming into this, but his deep closer running style should have him picking up at least half the field, would need pace meltdown.
#11 Lines of Battle- 50 to 1, These European shippers have been putrid in this race, this one was dusted on the sod in his stateside try last year, expecting a repeat effort.
#10 Palice Malice- 45 to 1, was all out at Keeneland after getting a good journey which he couldn't sustain, I'll pass that he now needs even, future on the sod.
#6 MyLute- 40 to 1, the "60 minute horse" as rider Rosie was recently on the show, if you are looking for a stab, he could be your reach, still think he is a cut below.
#2 Oxbow- 75 to 1, the loser at the draw as I feel old man Stevens will send and hope, but I don't think he'll get every poll, early leader, late fader.
#1 Black Onyx- 65 to 1, only scheduled main track start was dismal, but he does have ascending speed figures, nowhere near the caliber of Animal Kingdom and not for me.
#4 Golden Soul- 75 to 1, overall I have been disappointed in conditioner Stewart's career since leaving Lukas, but if you are looking for a late runner to run 4th or 5th, he would be that horse.
#13 Falling Sky- 250 to 1, completely got his way in the Ark Derby and still folded like a tent, a pace player that you will know early and won't be able to find late.
#7 Giant Finish- 100 to 1, the last one to make the field would need to run to his name to make any kind of noise in here, ambitiously spotted, but you do get Derby seats for entering.
#15 Charming Kitten- 500 to 1, owner Ramsey running to be in Derby, not because he belongs in Derby, wasn't killing them on the green where he will return after running up the track in here.
This year's Preakness should see some very intriguing new shooters, be sure to follow along with my on the Triple Crown trail as that publication will be out May 16 at www.equineinvestor.com/preakness13 as well as the Belmont Stakes on June 8th at www.equineinvestor.com/belmont13
Don Tiger
-Professional handicapper at www.equineinvestor.com