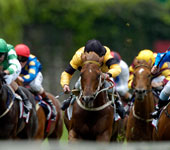 Sure the Triple Crown is over but what a ride I'll Have Another Gave Us. Flat Racing can be broken down into 3 schedules:
Triple Crown trail from November until June
Fall Finals in October & November when the Arc in Europe and the Breeders Cup culminate the year
and the Summer…….
Sure it's pool season but the Northern & Mid-Atlantic region give us 4 great races to follow: Jim Dandy & Travers in Saratoga, NY, The Haskell Stakes in Oceanport, NJ, and the West Virgina Derby in Chester, WV.
The least popular of the three actually could produce the most well rounded bunch as they added a purse kicker to the winner if he has won a grade I on his resume. Saturday August 4th is the event date with a special first race post at 2PM.